Startpage
Hitomi Tanaka
#1
· 7 February 2022, 7:42 am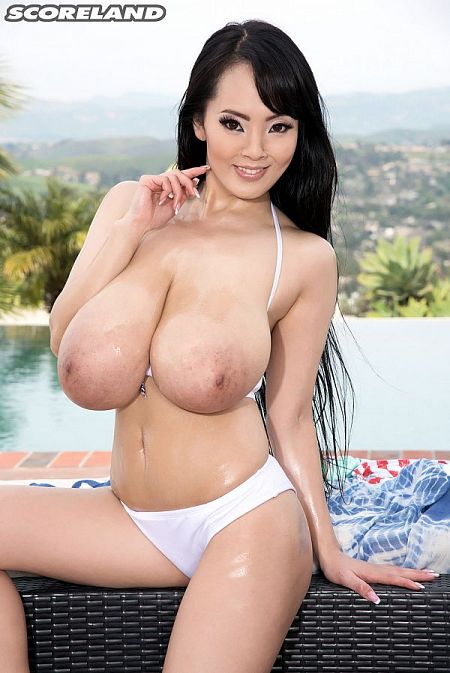 Hitomi was a natural to try it out, and the results are, once again, top-notch. First, a long, hard look at her phenomenal body and spectacular tits. Gorgeous Hitomi begins this pictorial dressed in a tight bra, panties and stockings. The bra is tossed, freeing her breasts so they can dangle and hang.
#Hitomi Tanaka #Big Tits #Boobs #Natural Tits #Hairy #Japan #Score
Last edited on 7 February 2022, 8:20 am by Milfhunter
#2
· 7 February 2022, 8:17 am
The girl from Japan is captured, held captive and captivated by two milk-crazed researchers from the dairy department of weird science.
In a deserted factory, these two crazy scientists and SCORE employees hook up suction tubes to Hitomi's nipples and pump large amounts of milk out of her huge breasts, filling gallon jugs with her creamy boob juice. It's a bizarre lactation fantasy and Hitomi is the centerpiece of this strange milking fetish.
Pumping the milk out her big tits creates a mess as an endless stream of milk is sucked out of her. Behind one milkman and a dripping Hitomi covered in milk spilling from her nipples, the second milkman empties a bucket of her nipple nectar into a larger bucket.
After her captors depart, Hitomi writhes and wiggles, overcome with erotic fever. It's time to wake up from your dream, Hitomi. The milkmen have left the building.
Last edited on 7 February 2022, 8:21 am by Milfhunter
#3
· 7 February 2022, 8:22 am
The SCORE art and studio staff were invited to choose the right look for Hitomi's body painting and this "dress" was picked for its Asian cherry blossom flavor.
Mr. John Neyrot of Neyrot.com is the master artist who had the honor of painting Hitomi's beautiful body. It took John and Hitomi four hours and she had to remain still for most of the time, periodically moving her arms or hair, so John could work his magic. This was a major undertaking.
"I've been painting for 20 years, so I've experienced a lot," said John. "But those were the largest naturals breasts I've ever painted. She is very beautiful, and I was amazed when she showed me her breasts and what I had to work with." John needed super-concentration with a girl like Hitomi before him as he applied brush to skin to create his intricate design. "I love how it turned out," he said. "I hope Hitomi liked it."
This time-lapse video condenses their long hours of work into an extraordinary show. A shot from the photo set was used as the cover for September 2015 SCORE, a collector's edition.
#4
· 7 February 2022, 8:24 am
Many call her the greatest Asian natural bra-buster ever. They are right. No busty girl has achieved the fame and popularity that Hitomi has. There are a few worthy contenders in Japan, and Hitomi knows them all, but they still can't match Hitomi, naturally blessed with a rare body that attracts huge attention wherever she may go.
Hitomi never expected to be in an American big-boob magazine. No other western magazine or website has photographed her except SCORE. She is very careful about her image.
Watching her stretch out sweaters in her room in a swanky villa in the Dominican Republic is another jaw-dropping Hitomi event. Everything Hitomi does is an event. Some of our staff went to a Victoria's Secret store with Hitomi. The sales staff were absolutely amazed by her figure.
#5
· 7 February 2022, 8:25 am
he editor of Leg Sex magazine wrote about how Hitomi looks here, "Those luscious and silky-smooth gams look perfect encased in stockings. And her stiletto Mary Jane shoes are a perfect mix of naughty and nice."
That's why the pictorial was published in Summer 2014 Leg Sex magazine (Volume 18 Number 2). Leg men who never focused on Hitomi's thighs and calves before will be pointing skyward when they see what hot legs Hitomi has.
While the pictorial is very leggy in the tradition of Bettie Page, with many photos of Hitomi perched on furniture and shot from low-angles to show how beautiful her pins are (she looks like she stepped out of a movie from 1958), the video of Hitomi in her vintage Sally Secretary '50's clothing and underwear complete with cut-out bullet bra focuses on her big natural boobs.
There's lots of tit play as Hitomi jiggles, squeezes, wiggles and shakes those much-loved hooters and tweaks and flicks her suckable nipples jutting out of the holes in her bra tips.
#6
· 7 February 2022, 8:26 am
Someone awesome is here to celebrate. None other than Japanese superstar Hitomi, your hostess with the mostess cleavage. Hitomi enters the private dining room through an elevator, carrying a tray with a bottle and glasses. She pours you a glass of wine, then climbs onto the table to play with her awesome body and world-class naturals. Hitomi is a living table decoration, art in the flesh. "Hitomi is without a doubt, the sexiest, most beautiful woman to ever walk this earth!" declares R.L. Back home in Tokyo, Hitomi is the #1 boob-goddess. Many Japanese models would like to have a fraction of her popularity. Tit-men are alike all over, regardless of nationality. Every single day of the week is a party with this beauty. Happy Every Day, Hitomi.
#7
· 7 February 2022, 8:29 am
And now for something completely different, the great Hitomi--SCORE's newly crowned Model of the Decade--enters a glory hole chamber where her gorgeous face and incredible body are doused with cum. As Elliot wrote, "It's a bizarre cum fantasy with fake cocks coming out of holes in the wall. As Hitomi plays with them, they squirt jizz out until Hitomi is drenched in goo. Her face is coated and dripping. Slime drips off her phenomenal tits and ass. What a mess!"
Yeah, but a good mess.
This scene was filmed when Hitomi visited Miami in 2015. It was a memorable visit. In addition to this scene, Hitomi got her body painted for the cover of the September 2015 issue of SCORE. She went out on a speed boat and visited Stiltsville, the deserted houses on stilts in the Atlantic Ocean, off the coast of Miami. She toured the Everglades, rode an airboat and became the subject of a milking fantasy (in which Elliot was the not-so-mad scientist).
I was also part of a group that took her out to dinner one night on Lincoln Road in South Beach. It was a memorable evening. We started out at a burger joint because if there's one staple of Hitomi's menu, it's steak. I had a burger. She had a big, juicy New York strip and devoured every bit of it. Then the group strolled down Lincoln Road, and although Hitomi was wearing a black sweater that wasn't at all form-fitting, you could tell that the boob-hound passersby had their boob radar going off. Every eye was on her.
A stop at Victoria's Secret was amusing because even though Hitomi was wearing that loose sweater, the saleswomen could tell they had no bras in her size. Not even close. And then we went for dessert, and Hitomi again devoured this huge thing we ordered. I don't quite remember what it was.
I remember how quiet Hitomi was, but that was probably because none of us spoke Japanese and she spoke only a little English. She used a translator on her iPhone to get by. Hitomi is not a wild girl. She's a Japanese girl-next-door who happens to have the body of a boob goddess. Just spending an evening in her presence was memorable.
#8
· 7 February 2022, 8:31 am
Hitomi sucks and kisses her nipples until they are covered in red lipstick and they stay that way for the duration of her cum show as she rubs one out on top of a bar. Hitomi was in Prague for the first time to get it on with Lily Madison and tongue Lily's taco in two sexy girl-girls, one of them a kinky fetish party.
Hitomi keeps busy back home in Japan and does a lot of meet and greets at conventions and adult shops. She's been to the States twice for the yearly Adult Entertainment Expo in Las Vegas. Sheridan Love, a regular at conventions, got to meet Hitomi, who was either dressed in a Japanese kimono or a skimpy silver bikini. Hitomi also met Maserati and Bridgette B. Big boob girls are magnetically attracted to each other.
After reading comments on the Blog and in SCORELAND, Hitomi super-fan Bighorse once wrote about Hitomi modeling with SCORE, knowing the situation with Japanese girls about their pussies having to be obscured. (No problem with the butthole; it's a vagina thing.)
"I trust you guys at SCORE with Hitomi. When I first heard she was working with a foreign adult company, I thought this could be bad but she knew what she was doing. Now I'm extremely pleased you guys are understanding with how Hitomi works and have taken good care of her."